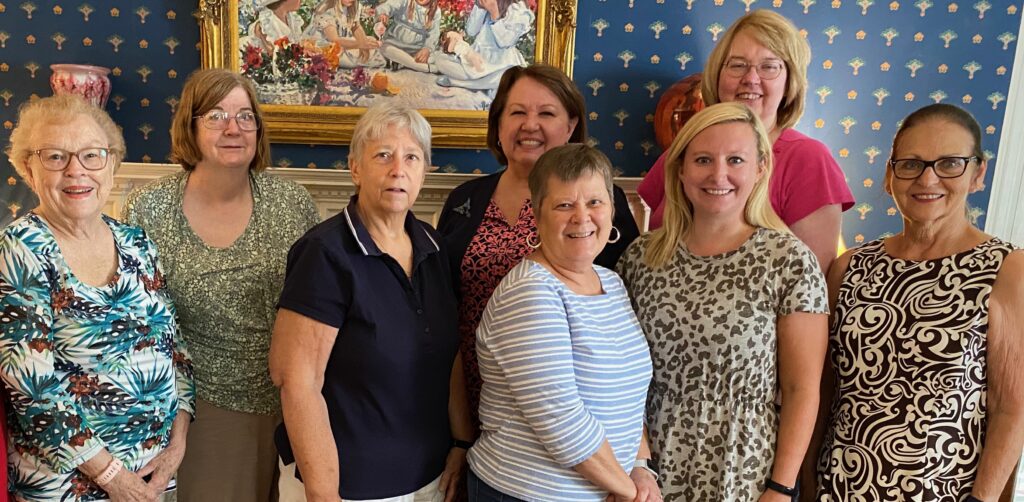 Welcome to the website of the O'Fallon Chapter, National Society Daughters of the American Revolution (NSDAR or DAR) of St. Louis County, Missouri! We're glad you found us and hope that you find something to interest you in our pages.
The O'Fallon Chapter, NSDAR, is one of 3,000 chapters across the country and throughout the world. It is a non-profit, non-political women's organization that meets on the third Saturday of the month in a hybrid format (both virtually and in person), September to May, except April and December when we host special events.
Our objective is to support historic preservation, patriotism, and education. Our members proudly serve the St. Louis region volunteering hundreds of hours supporting active duty personnel, assisting veterans, maintaining Coldwater Cemetery, recognizing excellence in education, and supporting underserved youth and children.
We welcome any woman 18 years or older regardless of race, religion, or ethnic background–who can prove lineal descent from a patriot of the American Revolution to join us. For membership information, please contact our chapter regent.
History
The NSDAR was founded in 1890, with the simple mission of promoting historic preservation, education, and patriotism. These timeless, overarching principles keep the DAR strong and vitally relevant in this ever changing world. The O'Fallon Chapter, NSDAR was formed on April 8, 1910, when a group of 14 women met at "Woodlawn," in O'Fallon, Missouri. When members moved to St. Louis they kept the O'Fallon name for their chapter to honor John O'Fallon, a famous St. Louis businessman, philanthropist, military officer, and nephew of William Clark and George Rogers Clark.
Follow us on Facebook to keep up with our most recent activities.
Photos on this page are courtesy of chapter members.